Well friends, it's been a bit over a week of the Weight Loss Challenge and, here's a surprise, I actually feel really good!
You know, minus the fact that my body hurts in a different place every day.  Or that I drool every time I pass a Stan's Donuts.  But real talk, I haven't had the sugar detox headaches I normally get, so I'd consider that a win!  In fact, let's go over the Pros and Cons of this wonderfully stupid journey  (cuz y'all know I love a good list)
Pros:
my clothes fit a bit better
I have more energy
I sleep better (albeit some weird dreams I've been having)
I'm SO MUCH LESS GASSY (you're welcome, Wrigley)
I feel more confident in my body, how I look, etc.
I'm getting stronger, I can feel it
I've been cooking a lot of new, easy, healthy recipes
I've simplified this aspect of my life by planning ahead
I am getting back into a gym routine and get excited about going
I AM THIS MUCH CLOSER TO $1,000
Cons:
Everything will be baggy/uncomfortable until I can afford new digs
I want to get everything done at once and need to pace myself
Sleeping better means wanting to sleep longer means snooze button 4ever
My bowels are still getting used to all this healthy stuff…
This negative voice in my head that tries to sabotage my hard work rears it's ugly head and makes me feel like crap every once in a while
My body is in a constant state of mild pain thanks to the cardio/strength training I've been doing 5-6 times a week.  Ow.
Lots more cooking = LOTS more dishes.  But as my dude said, "that's just more time off the couch!"  Yeah.  True.  Thanks.
Planning ahead is fantastic for Future Me.  It's a lot of work for Present Me.
Deciding what I'm going to spend $1,000 is HARD.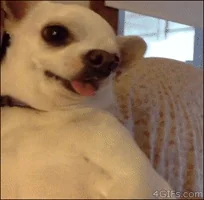 I've also made a big change and decided to save some money by quitting Weight Watchers and am now shifting my concentration to MyFitnessPal, where I can track for free, their database of foods is much larger, and I like their community a lot more (less whiny people).  Plus, I appreciate their breakdown of my macros and nutrients and adding in my workout calories.  Guys, I EAT SO MUCH SODIUM.  It's ridiculous.  It's not good.
On a similar note, I looked up "sad Oprah" on giphy.com for an appropriate reaction and felt the need to share all of the great ones.  She truly is a goddess.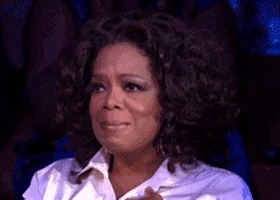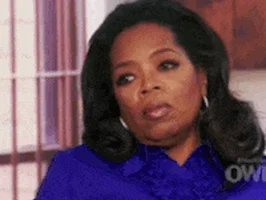 So right now, I'm in the "New Program, New Start" mentality, and it feels great.  This is the part where I'm excited about a new change, everything seems easy, and I feel very in control.  Here's the rub: this has happened twice on WW and lasted about 6 months at most.  And then something stressful happens like a show, a job, moving, etc, and it throws me off completely, like the light was immediately burned out.  I don't WANT that to happen, and I'm going to do my damnedest to avoid that, but there is this fear that the other shoe will eventually drop.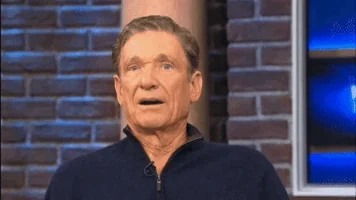 Which is why I want to focus on one day at a time.  It helped me when I stopped drinking, it keeps me grounded in my relationships, and it allows me to concentrate on what I can control and work on NOW instead of stressing about the "what ifs" that could happen in the future.  If I can dedicate my energy and focus onto today, then I can let the future fall into place how it is meant to.  That doesn't mean I won't run into road blocks, and I can prepare myself as much as possible for them, but it might still throw me off course.  That's okay.  Life happens.  I just need to enjoy the NOW.
Keep it real, kids.
-E